Camburg Engineering debuts their new KINETIK/General Tires Trophy Truck with a strong finish in the 2009 Score International Baja 1000!
Huntington Beach, CA – With the Baja 1000 fast approaching, the Camburg crew had many long days and late nights getting ready for this epic adventure. Baja has some of the most extreme terrain and a challenging atmosphere that most have never been able to conquer … hence the reasoning to bring out the new truck for its first race and debut it to the world.

Leading to this, Jason Campbell and the Camburg crew were able to finish the truck and take it out on a maiden voyage only days before the race. They logged 50 miles at night to make sure all systems were operational and to get a quick feel for the truck. In a nutshell they were extremely happy.
Team Camburg arrived in Ensenada, B.C. Thursday afternoon for Contingency and Tech Inspection after working the night before till 5:00 am. This was the first time fans and enthusiasts saw the new #75 KINETIK Trophy Truck fully assembled and race ready. Once through SCORE's showcase, the truck was parked for the night and the Camburg crew did some last minute checks and adjustments.
Jason Campbell along with Jonathon Snelling suited up and staged the #75 Trophy Truck at 10:00am while the fleet of chase trucks headed towards race mile 80 to setup their first scheduled pit stop at the Baja Pits location. With a rear starting position, Jason was off the line at 11:00am with 26 Trophy Trucks in front of him and 155 vehicles behind him. With very little test time in a brand new truck, Jason set a conservative pace as endurance races are never won in the first 100 miles. At about mile 20, Jason was experiencing motion sickness and had to pull off the course to re-group. Once settled he was back under way but then had to pull over and stop again. With working 15+ hour nights building the truck and not taking his usual motion sickness medication, Jason was in no condition to continue much further. He piloted the truck to race mile 80, where the crew topped off the truck with VP race gas and 12 minutes later Jerry Zaiden along with John Duncan were under way to race mile 205.
With these few delays, Jerry was behind some slower traffic that held up his pace for most of the next 120 miles. The Camburg crew migrated down the highway to a road crossing at race mile 205 to set up their next pit. With Jason out of the race truck, they learned outgoing radio communication was only working in short distances. They could hear just fine though, with that said it wasn't the end of the world but made things a little more difficult. Jerry came into the pits and let the team take charge. Jerry got out and Steve Myers from Myers Racing and IRC Tracking got into the drivers seat.
Steve's task was to take the truck all the way to race mile 405 with Johns help. Steve is very familiar with the San Felipe area and was the only Camburg team member to pre-run that section. Before the Matomi Wash, Steve encountered a huge bottle neck of cars & trucks scattered throughout the desert. Once cleared up, they were able to move forward until coming into yet another bottle neck in the wash. Having IRC tracking and IRC satellite communication was truly an asset when radio communication was non-existent and the Camburg crew needed updates. After getting through Matomi, Steve drove north up the gulf side towards San Felipe to stop for a splash of fuel and continued on to race mile 417 along the highway for another scheduled pit stop.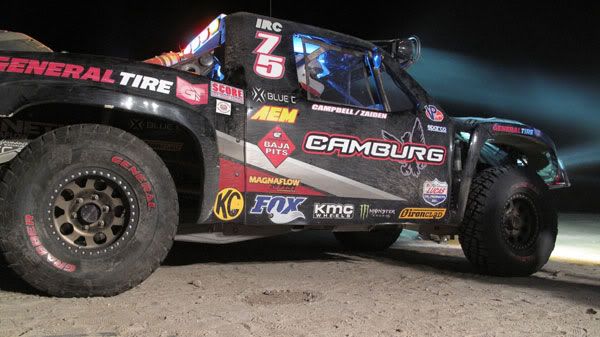 With Steve's experience, he was making great progress through the night and into Mike's Sky Ranch until he got stuck in a silt section around race mile 460. With below freezing temps and being in the truck for hours on end, this made digging the truck out that much more difficult. A few hours passed and they were unstuck with the aid of a quick tug from the four wheel drive Bronco of Moss Racing. The Mikes section is slow and technical, so progress was lethargic at times. Getting stuck again around race mile 480 made for a long and cold night. Back under way Steve piloted the truck to race mile 500 at sun up.
With a quick look over and fuel topped off, Jerry Zaiden and Austin Farner got in the truck to take it to the end. While Jerry was racing north on course the Camburg crew stopped for breakfast in a local town to enjoy some tasty food as most have been up for 24+ hours. They headed towards race mile 638 and splashed the truck one last time and headed to downtown Ensenada to meet them at the finish line.
Jerry crossed the finish line 16th in the Trophy Truck class in 26 hr 30mn. With having an estimated 7-8 hours of down time and not having to put a wrench on the new truck, Team Camburg was extremely happy with the results knowing how difficult Baja is and how fast the tables can turn from good to very bad.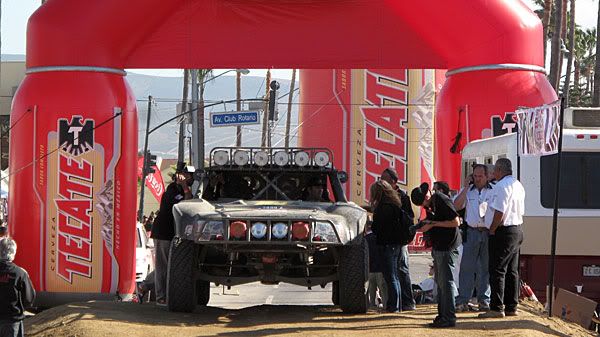 Camburg would like to thank all their sponsors for the opportunity to race this elite class. Without their support and the support of team members and fellow racers, this wouldn't be possible or mean as much as it does.
"I was surprised how easy this truck was to drive out of the box. It makes me excited knowing how much better it will get with further testing and development." – Jerry Zaiden
"It's an awesome feeling to finally drive a truck that you've envisioned years ago and put into action let alone finish a Baja 1000 out of the box." – Jason Campbell