---
Download your copy
 


of the In Gear!

Current Cal4Wheel members should have already received their copy of the June/July In Gear, but if you missed out, here it is! Inside you will find the latest information from our board members, run reports, information on our events, a directory of clubs and associate/business members, and more!! 

Download your copy at this link
---
Runs filling up fast for Trek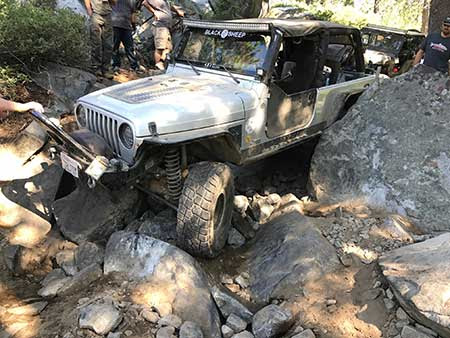 Our annual Sierra Trek event is coming up on August 9-12 in the forest near Truckee, CA. If you have been putting off registering, the time to wait is over!! Registration is $185 per person for members and includes meals for the weekend, the run of your choice, entertainment, a great raffle and more. 
Go to http://cal4wheel.com/sierra-trek for details and to register online.
---
Clovis Independent 4 Wheelers sponsor their 34th Moonlight Madness
---
Managing your email preferences
You are receiving this email because you have agreed to receive email updates from us. If you would like to unsubscribe, click the link below that says 'Manage preferences'. You can also manage all your communication preferences by logging in to your account at cal4wheel.org/MyAccount and clicking on the Preferences tab.
---
MetalCloak begins building new JL Win-A-Jeep
This year's Win-A-Jeep project will feature the all-new 2018 Jeep Wrangler JL, which will be customized by MetalCloak and accessorized with donations from our sponsors. Tickets are still only $5 each! 
Go to this link to order your tickets. REMEMBER: your cart total will always be zero because we cannot charge for the tickets ahead of time.
---
Rock trailers delivered – painter needed!
The association recently took delivery of two custom-fab rock trailers built by Varozza 4×4 Outfitters.
The trailers will be available to be loaned out to clubs and individuals for trail projects, but they needed to be painted first! We are looking for someone to paint them in the next two weeks. If you are interested, please contact North District Membership Chair Glenn Reynolds for more information. He can be reached at 916-834-7547. 
COMING UP




August 9-12




August 31-September 3




October 19-20
---