SRTUSA INSIDER: SEASON KICKOFF EDITION
RALLY: CHRIS ATKINSON
---
The 2018 rally season will kickoff soon (Oregon Trail Rally,

April 20-22

) and the big news we announced for this season was that David Higgins would be joined by former Subaru World Rally Team driver Chris Atkinson and former Junior World Rally Champion Patrik Sandell (both of whom are SRTUSA drivers) at select rallies in 2018. Aktinson will enter the Oregon Trail Rally this month.  We called up Atko and asked how his off season is going.

Q: How have you been spending your off-season? Are you enjoying the summer down there? 

Atko: It's been great to be at home for the summer in Australia. I have been training a lot and doing some karting to keep sharp. We have also been testing the Rallycross car a lot, so that has kept me busy.

Q: Oregon Trail Rally is quickly approaching. This is your first time rallying in the USA. How excited are you?

Atko: I am really excited, I hear Oregon Trail Rally has some of the best roads in the USA and we obviously have a great car and team, so it should be good fun. It's also going to be a big challenge, as it's my first gravel rally in a couple of years and the competition will be tough!
SUBARU WINTER EXPERIENCE
---
SRTUSA driver Patrik Sandell and his rallycross spotter Mattias Lönn created the Subaru Winter Experience this winter. The event was held on a frozen lake in Eagle River, Wisconsin in February and students traveled from all over the country to attend the full day of performance driving on ice. Subaru of America provided the brand new 2018 Subaru BRZ, WRX and WRX STI equipped with proper studded tires and Dirtfish Rally School sent some of their best instructors.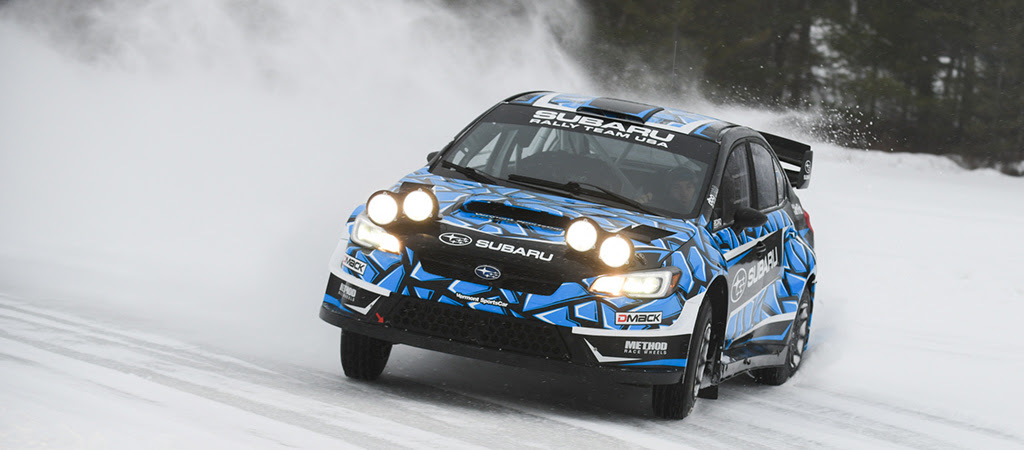 Check out some of the media coverage below:

AUTOWEEK – "Subies and a frozen lake go together like Nutella and bananas"

MOTOR AUTHORITY – "There are plenty of winter driving schools to choose from, but Flatout Sweden and Subaru have created an experience that costs less than much of the competition, provides just as much fun, and teaches valuable lessons in car control in a low-risk environment."

ALL WE'LL DRIVE BLOG – "It was such a great time enjoying a day of driving with my fellow classmates and our instructors.  The Subaru Winter Experience really lived up to it's name.  It's an experience I'll never forget."
EVENT: COME MEET CHRIS ATKINSON 
---
WHEN:

April 12th 2018 from 5pm to 8pm


WHERE: Dick Hannah Subaru | Vancouver, Washington
WHAT: Pre Oregon Trail Rally Meet | SRTUSA Display 
SUBARU RALLY DISPLAY PROGRAM
---
The team's show-car program showcases Subaru motorsport activities with a custom display trailer and an authentic team show car.  The team's 2 trailers typically visit a combined 80 events a year.  The 2018 display season is in full swing, check out the photos from some of the events thus far this year:
Glenwood Springs Subaru – Glenwood Springs, Colorado
WinterFest Weekend Takeover – Copper Mtn, Colorado
Gold Rush Subaru – Auburn, California
WinterFest Weekend Takeover – Mt. Bachelor, Oregon
Viewmont High School – Bountiful, Utah
Tom Wood Subaru Light Meet – Indianapolis, Indiana
Glenwood Springs Subaru (Glenwood Springs, CO) Winter Road & Rally Experience Event
Viewmont High School (Bountiful, UT)
Automotive class
Mt. Bachelor (Bend, OR)
Subaru WinterFest
Tom Wood Subaru (Indianapolis, IN)
Subaru Rally Display
Subaru Rally Team USA's Social Media Channels
---
About Subaru Rally Team USA
Subaru Rally Team USA is managed by
Vermont SportsCar
and proudly supported by
Subaru of America, Inc.
,
DirtFish Rally School
,
KÜHL
, 
Method Race Wheels
,
DMACK Tires
,
PIAA
, 
DBA
 and 
RECARO
. Follow the team online at
www.subaru.com/rally
About Subaru of America, Inc.
Subaru of America, Inc. is a wholly owned subsidiary of Subaru Corporation of Japan. Headquartered at a zero-landfill office in Cherry Hill, N.J., the company markets and distributes Subaru vehicles, parts and accessories through a network of more than 620 retailers across the United States. All Subaru products are manufactured in zero-landfill production plants and Subaru of Indiana Automotive, Inc. is the only U.S. automobile production plant to be designated a backyard wildlife habitat by the National Wildlife Federation. For additional information visit media.subaru.com.