SRTUSA INSIDER: NEFR18 EDITION
NEW ENGLAND FOREST RALLY (NEFR) PREVIEW
---
Round 4 of the 2018 ARA Championship, New England Forest Rally (NEFR) runs

this Friday

through

Saturday

(

July 20-21

) in the deep woods of Maine and New Hampshire. NEFR marks the mid-point of the ARA season and there will be three rallies left in the championship. Last year's NEFR winner and 2017 ARA champion Travis Pastrana will rejoin the rally side of Subaru Rally Team USA just one week after his ARX debut at Circuit of the Americas in Austin, TX. NEFR is known as a very rough, technical and rocky rally. If it's dry on the race day, dust may become an issue. This year, the field will have Berry McKenna who will pilot a proper WRC-spec car and Ken Block will be back with his World Rally car. It's not going to be a easy rally to win. New England Forest Rally starts at

11am

on Friday

. See you at the finish!
---
Round 4 of the American Rally Association Championship Series:
New England Forest Rally 2018
EVENT DATE:
7/20/2018 – 7/21/2018
HOST TOWN:  Newry, Maine | Errol, New Hampshire
TIME ZONE: Eastern Daylight Time (UTC -4)
️ NEAREST AIRPORT:  Portland International Jetport (PWM)
⛈ WEATHER:
Mostly sunny skies with a high of 87ºF and a low of 53ºF. Around 50% humidity.
NEFR | Spectator Guide | American Rally Association (ARA) | Live Tracking| Subaru.com/rally
SRTUSA Drivers:
Travis Pastrana (Co-driver Robbie Durant) Car #1
David Higgins (Co-driver Craig Drew) Car #75
Rally Cars:
2018 Subaru WRX STI Open Class Car – Full Specs
Event Hashtags
#NEFR18 #SubaruRally #SRTUSA #SRTUSASTPR18
SRTUSA DRIVERS' QUOTES
---
DAVID HIGGINS #75 SUBARU WRX STI
"Looking forward to the NEFR! This rally requires a lot of luck on the rough sections of the roads. It's a rally that is hard to keep a good rhythm as the roads are great but then you have a real rough section or just a big random rock sticking out of the ground so you are often having to change your line or speed to avoid them. It's definitely an event that we just need to take as many points as possible from while taking no big risks."
---
TRAVIS PASTRANA #1 SUBARU WRX STI
"I've missed rally so much! It's been way too long since my last event. Winning the championship last year was one of the greatest accomplishments of my life. I will have the #1 plate on the car at NEFR! I'm so excited to get back in the woods this weekend and have some scary, fast, fun with Dave Higgins, Barry McKenna, Ken Block and the rest of the field!"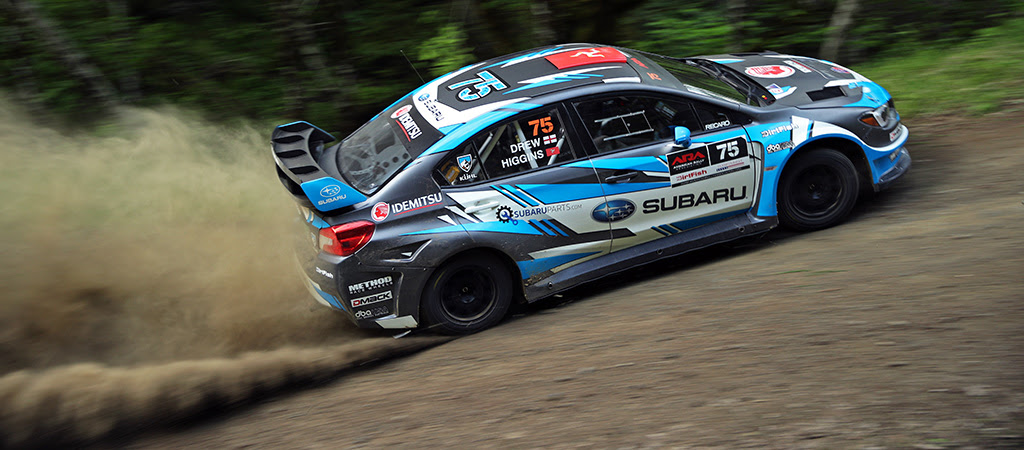 GUIDE TO NEFR BY CRAIG DREW
---
SS1 & 2 – Concord Pond (5.27 miles)
Concord Pond is probably the most famous rally stage in all of America! It can only be described as like Finland – lots of big jumps and crests and very fast. It's the one we look forward to all year and since 2017 we have ran it twice, back-to-back, which as a competitor is awesome! The stage is always lined with so many fans, and as soon as you finish the stage you always want to do it again – thanks to the organizers for allowing us to now do so!
SS3 – South Arm North (9.34 miles)
This stage is a traditional NEFR stage and is incredibly fast, probably one of the fastest stages we do all year. Due to the high average speeds, the stage now consists of 4 chicanes, which are often very tight and tricky to negotiate. There are severe penalties for hitting chicanes, so caution is needed. The stage also has many embedded rocks in the road, painted orange to help see them, and hitting one of these at speed can be a rally-ender.
STAGE INFO
---
Total distance: 464.50 miles
Number of stages: 13
Stage distance: 105.13 miles
Stage surfaces: Dirt and loose gravel
Longest stage: Stage 4 Icicle Brook S (15.61 miles)
Highest elevation on stage: 2,000′
Recce: 2 pass
Service Parks: FRI – Sunday River Resort, Newry, ME. / SAT – JML Trucking, Errol, NH.
Official Start: 7/20/18 11:00am
Superspecials:  0
Stages in darkness: None
#75 Subaru WRX STI (David Higgins / Craig Drew)
#1 Subaru WRX STI (Travis Pastrana / Robbie Durant)
Subaru Rally Team USA's Social Media Channels
---
About Subaru Rally Team USA
Subaru Rally Team USA is managed by
Vermont SportsCar
and proudly supported by
Subaru of America, Inc.
, 
Idemitsu Lubricants America
, 
DirtFish Rally School
,
KÜHL
, 
Method Race Wheels
,
DMACK Tires
, 
DBA
, 
RECARO
 and 
PIAA
 Fo
llow the team online at
www.subaru.com/rally
About Subaru of America, Inc.
Subaru of America, Inc. (SOA) is a wholly owned subsidiary of Subaru Corporation of Japan. Headquartered at a zero-landfill office in Cherry Hill, N.J., the company markets and distributes Subaru vehicles, parts and accessories through a network of more than 620 retailers across the United States. All Subaru products are manufactured in zero-landfill production plants and Subaru of Indiana Automotive, Inc. is the only U.S. automobile production plant to be designated a backyard wildlife habitat by the National Wildlife Federation. SOA is guided by the Subaru Love Promise, which is the company's vision to show love and respect to everyone, and to support its communities and customers nationwide. Over the past 20 years, SOA has donated more than $120 million to causes the Subaru family cares about, and its employees have logged more than 40,000 volunteer hours. As a company, Subaru believes it is important to do its part in making a positive impact in the world because it is the right thing to do. media.subaru.com.